Antifascist gathering in Madrid against Greece's Golden Dawn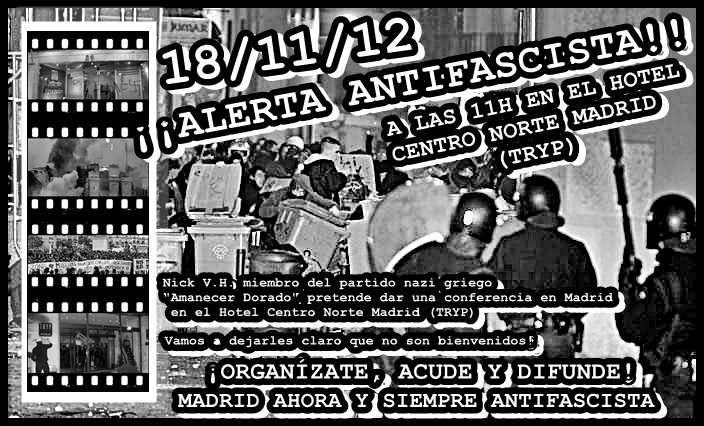 On November 18th at 11am in the morning, Nick VH, responsible for External Relations of the Greek nazi party Golden Dawn, will be giving a speech at the Hotel Madrid Centro. Golden Dawn is a nazi party that is completely allowed by police and state to act, as they form part of the Greek political system and have won enough seats in elections to be represented at the Parliament, with all that this implies (total impunity and legitimacy to act in any way as well as political and financial support to develop their campaigns, speeches and actions).

One of its members intends to come to Madrid to give a lecture on his party, and from the Madrid antifascist movement, we launch an antifascist alert and call people to go to face them and get them. We won't allow them to carry out this act in Madrid, or at least not in a normal way. Let's make it clear that they are not welcome here.

On November 18 at 11 am in front of the Hotel Madrid Centro (Mauricio Legendre street, 16).

ORGANISE YOURSELF, COME AND SPREAD!
MADRID ANTIFASCIST NOW AND ALWAYS!
source: barcelona.indymedia.org